Mr. Siggard

Stats

Position
Possible farmer
Age
Unspecified; possibly late 40's to early 50's.
Hair
Bald/Shaved
Family
Mrs. Siggard - (Wife) (Deceased)

Edward - (Son) (Deceased) Ammy - (Daughter) (Deceased)

Hera - (Mother) (Deceased)

Status
Dead
First Appearance
"Guts" (Corpse)
Last Appearance
"Guts" (Corpse)
Death
Shot himself in the head. (Suicide)
Ethnicity
Caucasian-American
Mr. Siggard 
is a character in 
The Walking Dead: Splatterpunk
, first introduced in 
"Guts"
, in the sub-chapter One. He is the husband of 
Mrs. Siggard
, the father of two children, 
Ammy
 and 
Edward
, and is the son of 
Hera
.
Pre-Apocalypse
Edit
Almost nothing is known about Mr. Siggard's life before the apocalypse. He had a wife and two children as well as a mother, and lived with them all in a small yellow house on a farm. He owned a horse, and possibly other farm animals and livestock.
Post-Apocalypse
Edit
Rural Georgia
Edit
After the apocalypse, sometime within the first two months, Mr. Siggard had gathered his entire family in the living room of their home. He told them all to have a Bible, and sat down on the couch. One-by-one, Mr. Siggard shot each member of his family in the head, killing them all. Afterward, he retrieved his own Bible, sat back down on the couch, and shot himself in the head. Rick encounters the dead Siggard family, and finds the horse alive, and steals it to get into Atlanta.
Killed By
Edit
After Mr. Siggard murdered his entire family in fear of dying from 
walkers
, Mr. Siggard then sat down on his sofa and shot himself in the head.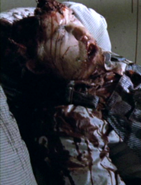 Killed Victims
Edit
This is a list of victims of that Mr. Siggard has killed:
Mrs. Siggard
Edward Siggard
Hera Siggard
Ammy Siggard
Himself (Suicide)
Possibly numerous counts of zombies.
Mr. Siggard's storyline is given through an interview with the author.

Also in the same interview, the names of his family were given.

The Siggard family is the first family in which all members are confirmed deceased.

Mr. Siggard is also the first person to kill his own family, all members, including himself.